Islands around Pattaya
Pattaya's beaches, namely Pattaya Beach, Jomtien and Wong Amat, certainly are not known for their beauty, but they compensate by offering tourists a good quality of services, with a multitude of hotels, bars, restaurants and shops located on the waterfront, and all kinds of seaside activities, like jet skis, speed boats, parasailing and banana boats. Contrariwise the nearby islands have white sand beaches and crystal clear waters, suitable for swimming and snorkelling. Among these Koh Larn is the closest, just 7.5 km off Pattaya coast; it has resident population, facilities, accommodation for tourist and stunning white sand beaches comparable to those in the Andaman Sea. Koh Krok, Koh Sak and the group of Phai Islands are uninhabited. Koh Si Chang is not really close to Pattaya, about 30 to north, but it is still easily reachable in a short time by ferry service that leaves from Koh Loy Pier in Si Racha. Located 80 km south of Pattaya, Koh Samet is very popular among foreign tourists thanks to its beautiful beaches and excellent climate, but it is also appreciated and frequented by Thais, especially on weekends and public holidays. Ferries to Koh Samet leave all year around from three different piers in Ban Phe, a small fishing village 20 km south of Rayong.
---
Smaller Islands
Phai Islands
Koh Phai is a group of islands 23 kilometres west of Pattaya, 15 km over Koh Larn. The islands are under the supervision of the Royal Thai Navy. Nature is pristine, there is no accommodation, bars or restaurants on the islands and is not allowed to stay in the night, but it is still allowed to practice swimming, snorkelling, diving in the surrounding waters or sunbathing on its beaches. Koh Phai, Bamboo Island in Thai, is the biggest in the group, with a slightly smaller area of Koh Larn. There is a lighthouse on the top of its hill, the only building on the island. The other islands of the group are, in order of size, Koh Luam, Koh Rin, Koh Man Wichai, Koh Klong Badan, Koh Luam Noi and Koh Chang Hu, which is little more than a rock into sea. To reach the islands you can rent speedboats from the beaches of Koh Larn, just one hour away, or from Bali Hai Pier in Pattaya, about 2-hour trip.Read More
Koh Krok & Koh Sak
Koh Krok and Koh Sak are two tiny islands north of Koh Larn. Both are small rocky outcrops long just over 500 metres and even less in width. To reach the islands you can rent speedboats from Koh Larn's beaches or from Bali Hai Pier in Pattaya. Koh Krok, is located about 1 km from Koh Larn, 8 km from the mainland. The small island is mainly composed of rocks, with a single beach, 100 metres long, in the eastern side of island. No accommodation is available on island. Koh Krok is an ideal destination for snorkelling or diving. Koh Sak is located 600 metres from Koh Larn, 9 kilometres west of Pattaya. The islet is a rocky outcrop in horseshoe shaped. In the islet there are two beaches, one to the north is 250 metres long, the opposite one to the south is smaller, about 80 metres long, both are suitable for swimming. The beautiful reef around Koh Sak is ideal for snorkelling.Read More
Get to Pattaya & Weather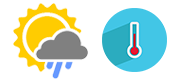 Pattaya is located on the northeast coast of the Gulf of Thailand, about 144 km southeast of Bangkok, and has an average temperature between 22° C and 32° C all year round. It is subject to annual monsoons that influence the climate dividing it in three seasons. The Cold Season is a dry period that runs from November to February, when the monsoon blows north-west, characterized by a constant sunny weather and the average temperature is between +22° C and +31° C. The Hot Season is a really warm period that starts in March until mid-May, when temperatures and humidity are higher and occasional rains are the norm. Average temperatures range from 27° C to 35° C with occasional peaks even higher than 38° C. The Rainy Season starts from May until November and is influenced by the southwest monsoon, during which rainfall is more frequent with furious storms and downpours. However, the rainfall usually do not last more than a day or all day, sunny days are not rare even in this period. The average temperature during this time is between 27° C and 30° C with the humidity usually well over 70%.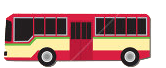 One of most popular means of travelling to Pattaya is definitely the bus, very appreciated among tourists for its affordability. The famous seaside is well connected to the capital, and many other cities of Thailand, with an efficient bus service. Buses to Pattaya depart from all terminals in Bangkok. The most frequent departures are from Ekkamai, the Eastern Bus Terminal more close to Pattaya, where buses leave every thirty minutes between 05:00 and 23:00 each day. Buses from Mo Chit, the Northern Bus Terminal, depart every forty minutes between 04:30 and 22:00, from the most distant Sai Tai Mai, the Southern Bus Terminal, buses leave every hour from 05:00 to 19:00. The journey from Bangkok to Pattaya takes about two hours and half, but times vary depending upon traffic. The cost of the ticket varies from 110 to 133 THB, depending on the departure terminal and class of bus. You can buy tickets directly at the departure terminal or at any travel agency, prices are not negotiable. The tourists arriving at Suvarnabhumi Airport can reach Pattaya directly from the airport in less of two hours, without go to terminals in centre of capital. The new International Airport is in a better position respect the old Don Mueang, 40 km more near Pattaya alongside of one Express Way, which permits to reach the seaside resort avoiding the chaotic traffic of Bangkok. First-class buses to Pattaya leave directly from the terminal, at Gate 8 on the 1st floor; second-class buses depart from Suvarnabhumi Public Transportation Centre, 3 km north of Airport, connected to terminal by a free shuttle. The 1st class buses air-con, with on-board toilet, cost 122 THB, 2nd class buses air-con, but usually without on-board toilet, cost 110 THB. Six Bell Travel offers a more expensive bus service, 250 THB, but inclusive of freight up to your hotel in Pattaya. You can buy tickets directly at the departures. From the Victory Monument and Khao San Road there are also several minivan services that leave in direction of Pattaya. Departures are every one to two hours depending on the starting point. The trip takes approximately 2 hours and the cost is around THB 200-250. The main bus station in Pattaya is located in North Pattaya Road, or Pattaya Nua Road in Thai, in Naklua sub district, not far from Sukhumvit Road. All 1st class direct services to and from Bangkok use this bus station, also known as Pattaya Roong Reuang Bus Terminal. To reach your final destination outside the terminal are available the song-thaews, which depart when full, every few minutes. The fare to anywhere on Beach Road is 25 THB, little more for other far destinations. The 2nd class buses usually make only one stop on Sukhumvit Road, close to North Pattaya Road, without entering the terminal, and then continue until Jomtien Beach where stop at Southern Terminal, in Thapphraya Road, at corner of Thep Prasit Road.
Find the best Hotel in
Pattaya

at "Lowest Price"
Northern & Central Bus Terminals
Reach Pattaya & Move Around
Pattaya International Airport, IATA code UTP.
Drive Around Thailand and stop every Place, enjoy the freedom...
---