Chiang Mai International Airport
Chiang Mai International Airport, IATA code CNX, is an international airport serving the city of Chiang Mai, the capital of the homonymous province in northern Thailand. The airport was founded in 1921 as Suthep Airport, and is the main gateway to northern Thailand. Currently it's the fourth busiest airport in the country. 17 airlines operate there with more than 5.3 million passengers, 43,000 flights and 18,000 tons of cargo handled. On January 24, 2011 the airport became a second hub for Thai AirAsia. Chiang Mai International Airport is situated about three kilometres southwest off the old town, and has two terminal twins, one for international departures and arrivals and the other for domestic flights. The arrivals halls of both terminals are located on the ground floor, while the second floor is for departures. The airport is well served by various means of public transport, taxis or songtaews. Songtaews cannot get inside the terminal without passengers. Accordingly, if you have just arrived, you can only find them on the main road opposite the airport. Inside the airport there is also a bus service, which runs every 20 minutes to the Old City. In the terminals there are offices of major car rental companies, such as Avis, Budget and Hertz, currency exchange offices and tourist agencies. The airport is open in the evenings until midnight and reopens at 05:00 am.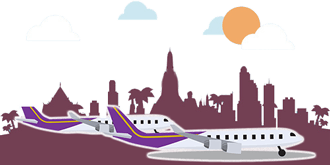 43.000
FLIGHTS
5.3M
PASSENGER
18,000t
CARGO HANDLED
---
Information
Web Site
The reference site for the Airport is www.chiangmaiairportonline.com
Useful Phone
Chiang Mai International Airport: 053 270 222-33 Fax: 053 277 284
Information: 053 922 100
Bangkok Airways: 053 281 519
Thai Airways: 053 277 900
Nok Air: 1318 - 053 922 183
Orient Thai Airlines: 1126
Note: for calls to Thailand you need to dial the country code +66 and does not include the first 0
---
Address: 60 Mahidol Rd, Tambon Sutep, Mueang Chiang Mai, Chiang Mai 50200, Thailand

Loading Thailand Map...
Other Thailand International Airports
Phuket International Airport, IATA code HKT.
Koh Samui International Airport, IATA code USM.
Chiang Mai International Airport, IATA code CNX.
Krabi International Airport, IATA code KBV.
Find the best Hotel in Thailand at
"Lowest Price"