Phi Phi Islands
Mu Ko Phi Phi is a small archipelago in southern Thailand consisting of six amazing little gems in the Andaman Sea. The archipelago includes Phi Phi Don, Phi Phi Leh, Koh Mai Phai aka Bamboo Island, Koh Yung aka Mosquito Island, Bida Nok and Bida Nai. Phi Phi Islands lie about 50 km east of Phuket's coast and 40 km west of Krabi Province, of which are part administratively. The islands are a veritable tropical paradise with a wonderful landscape, including green lush hills and towering limestone cliffs that overlook stunning bays, and pristine white sand beaches with incredible turquoise waters surrounded by coral reefs teeming with marine life. Phi Phi Islands are one of Thailand's most famous tourist destinations that attracts each year millions of visitors in search of their hidden corner of paradise. Phi Phi Don is the largest island of the group and the only one with inhabitants, facilities and hotels. Located south-west of Phi Phi Don, Phi Phi Leh is the archipelago's second largest island. It is uninhabited but world-known thanks to its stunning Maya Bay. The rest of the islands are little more than strips of white sand or limestone rocks jutting from the sea. The entire archipelago is part of the Hat Noppharat Thara-Mu Ko Phi Phi National Park, a real "must see" destination to divers and snorkellers. Diving in these clear waters between majestic limestone cliffs is a unique experience, with a nature that will charm even under the sea surface.Read More
---
Info
Address Park Office: Ao Nang, Muang Krabi, Krabi 81000 Thailand
Telephone: 075 661 145
Website: www.dnp.go.th
Admission fee: 400 THB for adults and 200 THB for children
Smaller Islands
Koh Yung
Koh Yung, also known as Mosquito Island, is one of most north-easterly islands of Phi Phi group. It lies about 3 km away from northern tip of Phi Phi Don. The tiny island is a limestone cliff that juts over the sea, about 900 m wide and 150 m long, with a shape like a bent nail. On the eastern side of Mosquito Island lie two small beaches, both are rarely visited by tourists, because they are not able to compete in beauty with the other archipelago beaches and also due the huge legions of mosquitoes that show up around sunset, hence its name. Nevertheless, the island has a beautiful coral reef and so is a good destination for lovers of snorkelling or diving. The southeastern tip of Mosquito Island is the best dive spot around it. Here, not far from the shore, lays a three-headed limestone pinnacle mostly covered with colorful gardens of soft and hard corals, home and shelter of a great abundance of marine life. Even snorkellers here can see large shoals of reef fish and Black Tip Reef Sharks. You can reach the small island from Phi Phi Don with long-tail boats from Ton Sai Bay, 30-minute boat ride, or even better from Moken Sea Gypsies village on Laem Thong Beach, only 10-minute ride.Read More
Koh Bida Nok & Koh Bida Nai
Koh Bida Nok and Koh Bida Nai are the southernmost islets of Phi Phi Archipelago. The islands are just two limestone rocks jutting from the turquoise-blue sea of Andaman Sea, about 1.5 Km south of Phi Phi Leh and 8 km from Ton Sai Bay, 40-minute boat ride. Under protection of Hat Noppharat Thara-Mu Ko Phi Phi National Park, the islands offer exciting diving opportunities with sloping rocky walls covered by colourful coral gardens and a great abundance of marine life. Koh Bida Nok, which means 'Outer Father' in Thai, is the larger of the two and it is suitable to all level of divers. The small islet is stunning both above and below the water, and is regarded as Phi Phi's best diving. Usually divers begin exploring the underwater of Koh Bida Nok from the eastern side of the island and then swim to the south around the rock. The south-western side of rock islet is where you'll find the most beautiful coral and rock formations. The limestone cliffs descend dramatically into the sea and are covered with soft corals and purple, green, blue and pink anemones. The reef is rich also of sea fans, sea whips, giant brain corals, table corals and bubble coral.Koh Bida Nai, which means 'Inner Father' in Thai, is like its larger sister island, with similar characteristics above and below the sea surface but can also be visited by snorkellers as its eastern side is shallow enough to enjoy this activity. Here you will swim between Harlequin-ghost Pipefish, Needlefish, Seahorses, Black Tip Reef Sharks and huge shoals of Snappers and Barracuda. You will explore the hard and soft corals, anemones and gorgonian sea fans, including hides the voracious Lionfish.Read More
Get to Phi Phi Islands & Weather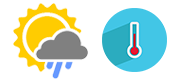 Phi Phi Islands are just 50 km away from Phuket and have a similar climate, with average temperatures of about 24° C to 32° C, all year round. The best time to visit the islands is between November and March, when the humidity is lower and the average temperature is 28° C with cool evening breezes; the surface conditions are generally calm and the water temperature is between 27° C and 30° C. During the rain season, from early May until November, the archipelago is influenced by the southwest monsoons and rainfall is more frequent and intense, but still worth a visit because it does not rain every day or all day and sunny days are not rare even in this period. The average temperature during this time is between 24° C and 30° C with the humidity usually well over 70%.

Phi Phi Islands are situated about 814 km, from Bangkok. The small islands do not have their own airport, accordingly to reach them you can choose between two options of travel, one that provides the use of aircraft to approach and one, more economical, which provides the use of the buses, in both options plus ferries, of course. Phuket and Krabi are the closest resorts with airports and bus terminals. Phuket International Airport is located in the north of the island, 32 km from the centre of Phuket Town and 36 km from Rassada Pier, the dock from where depart the ferries to Phi Phi Islands. Outside the airport there are taxis and limousines that will carry you to the pier, approximately 600-700 THB for a 40-minute trip. Krabi International Airport is located 15 km from the centre of Krabi and 40 km from Ao Nang. There is an air-conditioned bus service connecting the airport to Krabi, Ao Nang and Noppharat Thara Pier. The rates are 90 THB to Krabi and 150 THB to Ao Nang and Noppharat Thara. From the arrivals terminal you can reach Krabi or Ao Nang with taxi and limousine service, the cost is 500 THB to Krabi and 800 THB to Ao Nang. The economic song-thaews pass on the main road, outside the airport, and allow reaching Krabi with a modest price of 30-50 THB.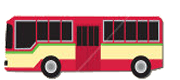 Despite the long distance between Phi Phi Islands and Bangkok many tourists choose buses to get to the islands. Buses are much cheaper of flights, two or three times less, and are a good alternative in high season, when flights to Phuket and Krabi are full and hard to find if not booked in advance, and travelling during the night allow recovering the excess time respect to flights. The VIP buses, with few comfortable seats, toilet and air conditioning, and first-class buses connect Phuket and Krabi to Bangkok and the other main seaside resorts of southern Thailand. You can buy tickets directly at the departure terminal or at any travel agency, prices are not negotiable. Phuket has two bus terminal, the old Terminal 1, with local bus departures, and the new Terminal 2, from which depart most of the buses useful for tourists, other seaside resorts and cities of all Thailand. The Bus Terminal 2 is located on Thepkasatri Road, the main road leading out of Phuket Town, between Mission Hospital and Supercheap shop. It is a station recently built, and manages all passengers coming to and leaving from the island. Outside the terminal there are taxis, tuk-tuks and motorbike-taxis that will carry you to Rassada Pier. The Krabi Provincial Transport Station is the main bus station in Krabi province. It is located in Tambon Pak Nam, near the Ban Talat Kao Food & Market, about 4 km from the center of Krabi Town. The terminal is the point of arrival and departure of almost all long-distance buses, from Bangkok and neighbouring provinces, as well as all minivans from and to seaside resorts in Southern Thailand. The terminal is well served by public transport of Krabi, taxis, minibuses and song-thaews. Taxis, local buses and minibus to Ao Nang or Krabi Town leave directly from the terminal. The song-thaews are in continuous transit or are parked on the main road near the terminal. The cost of a trip to the seaside resorts of Ao Nang or Noppharat Thara is 50-60 THB during the day and 60-100 THB after 18.00.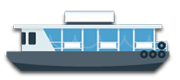 Phi Phi Islands are easily reached from Phuket or Krabi with regular ferry services throughout the year. Ferries leave daily, with frequent departures, from the docks of Krabi and Ao Nang, at a cost of 400/500 THB per way, or from Rassada Pier in Phuket Town, at a cost of 500/700 THB. Alternatively you can get to Phi Phi Don, or all other islands of archipelago, with a day trip by speedboat from Krabi or Phuket, roughly the cost of the single rental is between 6,000-8,000 THB for whole day. Due to the fact all Phi Phi Islands belongs to a National Park, please note that you'll to pay 400 THB entrance fee per person to get there, 200 THB for child. There are two piers on arrival at Phi Phi Don, the Ton Sai Pier in the main village and Laem Tong Pier located in northernmost tip of island. Once in Phi Phi Don for exploring the exciting Phi Phi Leh and its amazing Maya Bay, you can take advantage of long-tail boats to move around at will, the cost of hire is around 1,000-1,500 THB for four hours or 2,000-2,500 THB for a full day, up to 4-6 people. At Phi Phi Don you can also rent a speedboat for a cost of 3,500 THB for a half day, or 6,000 THB for a full day, up to 6-8 people. Alternatively, if you prefer to live this experience in comfort from Phuket or Krabi, you can take advantage from the several day tours offered by many authorized tour operators of both seaside resorts, which allow you to discover whole archipelago. Normally day trips include the transfer by minivan from your hotel to the piers, roundtrip by speedboat, tropical fruit, fruit juice and water on board, lunch buffet, tour guide and insurance. There are several possibilities of excursions, some provide a visit to Phi Phi Don and Maya Bay in Phi Phi Leh, others tours include stops in other islands in the surrounding area, as the beautiful Bamboo Island. Price varies depending on the option chosen and quality of services, roughly range from 1,500 to 3,000 THB, including 400 THB of fee for access to the National Park. Tour operators apparently more expensive, certainly the best, perform the service with 25-seat speedboats, a qualified guide and the best buffet meal. Maya Bay has become a destination congested; the beach is not as large as people think and in the morning is always crowded, only some tours operators offer best excursions in the late afternoon. Lately some tours operator were equipped with boats over 70-100 seats and offer tours to lower prices, that does not mean that the quality is poor, the tour package will offer the minivan service, full tour and lunch buffet, but clearly more people on board are to the detriment of the quality and tranquillity.
We Sugest

Find the best Hotel in
Phi Phi Island

at "Lowest Price"
Find cheapest airfare to Thailand
Southern Bus Terminals and Schedules
---
Useful Piers & Ferry Schedules
Useful airports