Doi Suthep-Pui National Park
Doi Suthep-Pui is a national park in Chiang Mai Province. Established in 1981 as the 24th national park of Thailand, it is a protected area for flora, fauna, and habitat. The park, located only few kilometres northwest of Chiang Mai City, covers 265 square kilometres of verdant forest and mountain ranges in three districts of Chiang Mai. The park's mountainous landscape is part of the Thanon Thong Chai Range. Mostly made of granite, it is the southernmost subrange of the Shan Highland system that extends through Yunnan province in China to Myanmar and Thailand. The three main peaks within the park are Doi Suthep, Doi Buak Ha, and Doi Pui, the latter with a height of 1,685 meters it is the highest. Formerly known as Doi Oi Change, Doi Suthep is slightly lower, 1,676 meters above sea level, but the best known because close to its peak is located the Wat Phra That Di Suthep, which is the city's most sacred temple and one of the most important temples of Theravada Buddhism in whole Thailand. The current name of Doi Suthep was inspired by a hermit named Prarusiwasuthep who once lived along the mountain's slopes when the area was a protected forest. Due to high altitude, the climate on the upper slopes of the mountains is cool and pleasant all year round even in hot season, with average temperatures of 20-23° C. In the cool season, the air is more cold and clear. Temperatures can drop to 6° C during the nights of February. August and September are the wettest period of the year with daily rainfall. Park's entrance fee for foreigners is 200 Baht, 100 Baht for children.
Park's Highlights
Built near the summit of Doi Suthep, Wat Phra That Doi Suthep is the park's main attraction, which is probably the most famous and important temple in Chiang Mai. Other attractions in this national park include the Bhubing Palace, the winter residence of King Bhumibol Adulyadej and Royal Family, few waterfalls, viewpoints, caves and the nature. Park's evergreen forests, with ever above 1000 meters, are ideal for hiking through many trail options as well as for cycling and camping. Inside the park there are a few villages of Hmong Hill Tribe. The park is mostly covered with lush forests, made up of an evergreen forest above 1000 meters of elevation and a deciduous forest below, with some mixed deciduous-evergreen forest occurring in gullies and along streams. Common trees include oaks, dipterocarps, and trees of the magnolia family. Common species include Oaks and trees of the families Dipterocarpaceae, Fagaceae and Magnoliaceae. There are also nearly 2000 species of ferns and flowering plants. Wildlife in the park includes Indian Muntjac, Wild Boar, Serow, Asiatic golden Cat, Porcupine, Asian black Bear, Macaque and other small mammals. More than 300 species of birds can be seen here, including Red Junglefowl, Pheasants, Yunnan Fulvetta, White-crested Laughingthrush, Eagles, Parrots, Bulbuls, Great Barbet, Blue-throated Barbet and Grey-chinned Minivets. Animals in the park also include the Tylototriton Verrucosus, i.e. the crocodile salamander, a rare species of amphibian that can be found in only four localities in Thailand.
Wat Phra That Doi Suthep is the city's most sacred temple and one of the most important temples of Theravada Buddhism in whole Thailand. Overlooking Chiang Mai from a top of a hill forming the Doi Suthep mountain, around 1,060 meters above sea level, the temple is located about 7 km west of the city center and accessible via a 15-kilometer winding mountain road since 1935. Thanks to a lift you can easy climb up the hill, but a devout Buddhist prefers to walk up the 309 steps of the intricately carved mythical Naga Serpent Staircase. The beautiful copper plated chedi cover most of holy area of temple. Within the site are pagodas, statues, bells, a museum, and shrines. The walls around the spiral chedi form a mini enclave and are richly decorated with historical murals that draw from both Buddhism and Hinduism. There are several ways to reach the temple from Chiang Mai. If you plan to go on your own, you can rent a motorbike, get a ride in a shared song-thaew, roughly 50 THB per person, or hire privately a red song-thaew for around 800-1,000 THB for the two-three hours, make sure you bargain for the best price. The temple is open daily from 06:30 to 18:00. Admission for Thai nationals and foreigners costs 30 THB per person.
Bhubing Palace was built in 1961 as residence to accommodate the Royal Family during their visits to the northern Thailand. The official name of the palace is Phra Tamnak Phu Phing. It is located 4 km west of Wat Phra That Doi Suthep along the Doi Suthep Road, Highway 1004. The palace includes several edificies including guesthouses for state visitors from abroad. The area around Bhubing Palace is ideal for birdwatching, butterfly watching and also boasts a good view over Chiang Mai. The palace is open to the public, except when the Royal Family is in residence, from 8:30 to 16:15.
Namtok Taat Mook is a waterfall located at the north side of the national park. It is accessible by a 7 km long circular trail that starts near the Golden Buddha overlooking Huay Tung Tao Reservoir. The trail to the waterfall requires a guide. They are available at the start of the trail and cost 200 THB per group.
Namtok Huey Kaew is a small waterfall located at the edge of Chiant Mai City, within short walking distance from Doi Suthep Road, Highway 1004, next to the park entrance.Read More
Headquarters and Campsites
Doi Suthep-Pui Park Headquarters is on Sriwichai Road, better known as Doi Suthep Road, adjacent to Chiang Mai Provincial Tourist Police Station, at the beginning of the winding 15 km road leading to Wat Phra That Doi Suthep and then crosses a good part of park. Inside the park there is another Headquarters, just afterwards Wat Phra That Doi Suthep, and four information centers close to main attractions, as well as several camping areas with parking and some lodging accommodations for hikers. Many food stalls and restaurants are scattered over all the park area. At HQ located afterwards the temple there are several bungalows, a rental home is located at rangers station near the Mon Tha Than Warterfall, a youth hostel is located near the Mok Fa Waterfall. Yod Doi Pui, the main campsite, is located north of Bhubing Palace in Tambon Chang Phueak, 900 meters west of palace turns on right and follows the road for about 4 km. The campsite has basic facilities, a restaurant and a visitor center, where tents and mountain bikes are available for rent. A tent per two person costs 200 Baht per night, sleeping bags and other accessories are also available for 50 Baht. Camping visitors are recommended to use sleeping bags as night temperatures get very cold, during certain seasons as low as 6 °C. Mountain bikes costs 100 Baht a day.Read More
---
Info
Address Park: Sriwichai Road, Amphoe Suthep, Chiang Mai
Telephone: +66 5321 0244, +66 5329 5117
Admission fee: 200 THB for Adults and 100 THB for Children
Website: www.dnp.go.th
Getting There & Weather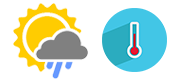 The climate of Thailand is tropical in nature, driven by monsoon and divided into microclimates due to the geographical shape of the country that allows it to lie within many meridians. The Northern Thailand has three distinct climatic seasons as follows. The Cold Season: A relatively cool dry period that runs from November to February when the monsoon blows northwest. During this period most of the northern mountains areas have temperatures that can approach to Zero Celsius in the night. The average temperature in this period range between 19° C and 25° C in the day and between 10° C and 16° C at night. Temperatures can drop to 6° C during the nights of February. The Hot Season: A warm period that starts in March until mid-May also characterized by occasional rain. The northern mountains areas have intense heat and high humidity during all this time with average temperatures ranging from 29° C to 35° C. At times there can be temperature peaks even higher than 40° C. The temperature usually hits its highest point in mid-April. The Rainy Season: This period starts from May until October influenced by the southwest monsoon during which rainfall is more frequent and intense. However, as can be said for the term "cold season", the term "rainy season" can be slightly misleading. While the rain during this season can be intense with furious storms and showers, they usually do not last more than a day. Sunny are also not uncommon during this time a well. The average temperature during this time is between 28° C and 30° C with the humidity usually well over 70%.

Doi Suthep-Pui National Park is only 7 km kilometres northwest of Chiang Mai City. To reach the park from city center follow the Highway 1004, i.e. Sriwichai Road or Doi Suthep Road, the winding 15 km road leading to Wat Phra That Doi Suthep and the HQ located close to the temple. Bhubing Palace is about 5 km ahead following the same road, while Yod Doi Pui Campsite is located 4 km north of palace following the road that turns to the right 900 meters later. To get there, you can drive yourself a hired car, or hire a songthaew for as long as you need it. Consider that a songthaew, two-bench partially open-air taxi, will cost about 2,000 THB for the whole day including gasoline usually, so ask first to avoid surprises. In Chiang Mai you can rent a car at prices ranging from 1,000 to 2,000 THB a day, depending on the model and rental company. At airport terminal you will find the offices of the major car rental companies such as Avis, Budget and Hertz, which offer excellent car covered with full insurance. Inside city, the local hire agencies offer cars of good quality at similar price, however, sometimes they do not have insurance that covers the full damage, so make sure of it before you have unpleasant surprises.

Chiang Mai International Airport, IATA code CNX, is an international airport serving the city of Chiang Mai, the capital of the homonymous province in northern Thailand. The airport was founded in 1921 as Suthep Airport, and is the main gateway to northern Thailand. Currently it's the fourth busiest airport in the country. 17 airlines operate there with more than 5.3 million passengers, 43,000 flights and 18,000 tons of cargo handled. On January 24, 2011 the airport became a second hub for Thai AirAsia. Chiang Mai International Airport is situated about three kilometres southwest off the old town, and has two terminal twins, one for international departures and arrivals and the other for domestic flights. The arrivals halls of both terminals are located on the ground floor, while the second floor is for departures. The airport is well served by various means of public transport, taxis or songtaews. Songtaews cannot get inside the terminal without passengers. Accordingly, if you have just arrived, you can only find them on the main road opposite the airport. Inside the airport there is also a bus service, which runs every 20 minutes to the Old City. In the terminals there are offices of major car rental companies, such as Avis, Budget and Hertz, currency exchange offices and tourist agencies. The airport is open in the evenings until midnight and reopens at 05:00 am.

Buses and minibuses offer different choices to get to Chiang Mai from Bangkok, or from other cities of tourist interest. Many tourists use buses lately, although the duration of travel, since when are available the comfortable VIP buses, which often traveling at night and allow to recover time for the holiday. Chiang Mai has two bus stations, consisting of three different terminals, one, the oldest, in city centre, the new one outside the city walls. The Chang Puak Terminal 1 is the old bus station in Chotana Road, just north of the central moat, about 1 km north of Chang Phuak Gate. From Chang Puak depart all buses to various districts of the Chiang Mai province, like Mae Rim, Chiang Dao, Fang, Tha Ton, Phrao, Samoeng, Chom Thong and Doi Tao. The station is in a good central location and, if you must use them, you can reach it even walking. The new one is the Chiang Mai Provincial Arcade Bus Station, located just outside Kaew Nawarat Road to the east of the city moat, about 3 km from the city centre. Arcade is a huge bus station and has two terminals, Terminal 2 and 3 adjacent each other, separated only by a tuk-tuk stand and a road. All buses, and minivans, from and to destinations outside Chiang Mai province use the Arcade station. The available destinations include not only all the other provinces or cities in northern Thailand, such as Chiang Rai, Mae Hong Son, Mae Sariang, Nan, Lampang, but also the provincial capitals of central and eastern regions, such as Sukhothai, Nakhon Ratchasima, Khon Kaen, Ubon, Bangkok as well some seaside resorts, like Hua Hin, Koh Chang and Koh Samet. Currently there are more than 40 different transport companies operating from the Arcade Station, all with different itineraries, prices, quality of services and timetables. Depending on the destination and the transport company buses depart from Terminal 1 or 2, but often, in classic Thai style, to the same destinations buses leave from both terminals, and in the same way behave the companies.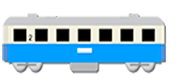 Trains are a good alternative to buses to get to Chiang Mai from Bangkok, although the trains are are slower of buses, but they offer more chance of sleeping during overnight trips, in case you choose a class with sleeping bunks. The first-class provides private cabins with two seats and air conditioning, the seats inside are transformed into two beds. The second-class does not provide private cabins; it has wagons with bunk beds separated by curtains or seating with comfortable padded seats, both with or without air conditioning. There are five daily departures from Hua Lamphong Railway Station in Bangkok toward North, reaching Chiang Mai in about 13 hours. A third-class seat from Bangkok to Chiang Mai costs 271 THB. A second-class seat costs 431 THB with fan, 641 THB with air-con; a second-class upper berth with fan costs 531 THB and 581 THB for lower berth, while with air-con the prices are 821 and 751 THB. A first-class upper berth in private cabin costs 1,253 THB and 1,453 for lower berth, it means a two-person air-con sleeping compartment complete with washbasin. To find availability in first and second class booking in advance is highly recommended, a few days for the seats and as soon as possible for bunks and sleeping cabin. The SRT has tried to make Advance Booking as easy as possible; in fact, you can book tickets up to 60 days ahead at any railway stations and up to 30 days ahead online.
We Sugest

Find the best Hotel in
Chiang Mai

at "Lowest Price"
Find cheapest airfare to Thailand
Useful Bus Terminals
Reach Chiang Mai & Move Around