Bangkok Skytrain - BTS
The Bangkok Mass Transit System, commonly known as the BTS or the Skytrain, has certainly simplified displacements within Bangkok. Undoubtedly, it is currently the swiftest way to get around the chaotic centre of capital with a means of transport cheap, cool and clean. It is even a panoramic way to enjoy Bangkok from its starting platforms. Skytrain is an elevated rapid transit system, operated by Bangkok Mass Transit System Public Company Limited under the concession granted by the Bangkok Metropolitan Administration. Along with the MRT, the underground railway, and the ARL, the elevated Suvarnabhumi Airport Rail Link, the BTS is part of Bangkok's rail transportation infrastructure. Princess Maha Chakri Sirindhorn officially opened the Sky train on 5 December 1999. On these days, it serves around 600,000 passengers on an average weekday, 400,000 on an average weekend day. The Skytrain operates all year round, from 5.30 a.m. to midnight, with frequent departures, cheap prices and high-speed rail system. For example: from the Ekamai Bus Station, in the middle of Sukhumvit Road, to reach the shopping centres in Siam Square takes only 10 minutes, and the cost is 40 THB. The same path in Taxi Meter takes at least one hour, in good condition of traffic, and the cost is twice or even more. Although the place you want to achieve is not close to any BTS station, the Skytrain is still convenient and quick as a means to get closer to your destination and then complete the path by other means, Taxi, MRT or Tuk-Tuk.
---
BTS Lines
The elevated transit system consists of 34 stations along two lines: the Sukhumvit Line or BTS 1, represented on the official BTS map in Light Green, which runs from north to east, between Mo Chit BTS Station, in the area of Chatuchak Weekend Market, and Bearing BTS Station in southern area of Sukhumvit Road, and Silom Line or BTS 2, represented on BTS map in Dark Green, which connects the National Stadium in the city centre to Bang Wa district in the west side of Chao Praya River, pass through Silom and Sathon Roads, the central business districts of Bangkok. Siam is the only interchange station between the two lines.
Download Map
Time Table
(THB)Fares
---
BTS Stations & Connections
All the stations are elevated and constructed on three levels, but escalators do not serve all of them. The street level is located on roadway and provides access to the station via stairs or escalators. On the first elevated level there are BTS Ticket Offices, small kiosks with personnel, and Vending Machines, the access control gates and others stairs or escalators, which provides access to the second elevated level where are the waiting platforms and rails, on the third level at Siam Station. The BTS stations follow a side platform layout, only Siam Station uses island platforms to facilitate cross-platform interchange between the two lines. Phaya Thai BTS Station is only 100 metres walking distance from the homonymous station of City Line, the Airport Rail Link connecting the center of Bangkok to Suvarnabhumi Airport. Sala Daeng, Asok and Mo Chit are the three interchange stations with the underground MRT system. Saphan Taksin BTS Station is connected to the adjacent Sathon Pier where depart the Chao Phraya Express Boats.
Stations
BTS Tickets
To get the Skytrain there are several ticket options: single ticket, daily ticket and even monthly subscriptions. All are magnetic tickets, available at any Ticket Issuing Machine, Integrated Ticketing Machine, Ticket Vending Machine or all BTS Ticket Offices. In May 2012, was launched the new stored-value ticket called Rabbit Card, which is a brand new electronic payment card system that allows holders to pay for the fee of BTS and MRT with only one card. Single Journey Ticket is valid for a single trip, with fare according to chosen destination, starting at 15 THB up to 42 THB. It is valid for travel only on date of purchase and has a validity limit of 120 minutes; it should be kept for the whole trip and will be retained at an Automatic Gate upon exit. One-Day Pass costs 140 THB, and is ideal for tourists in visit to Bangkok. It is valid for unlimited rides on the date of issue or registration only. BTS 30-Day Smartpass is a monthly subscription that allows to multiple journeys, more trips you plan to do in one month lower is the cost of individual trips. Example: 15 trips 450 THB i.e. 30 THB per trip, 40 trips 1040 THB i.e. 26 THB per trip. If you like to look the panoramic view of Bangkok from the top of Skytrain, remember that the ticket has a validity limit of 120 minutes and then there is a fine of 40 THB. For more information visit the BTS Website where you'll find details of routes, train stops and detailed maps of the streets and places of tourist interest near each station.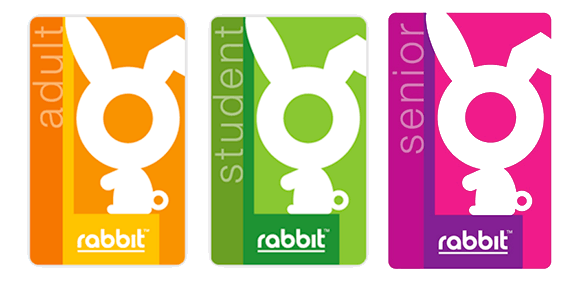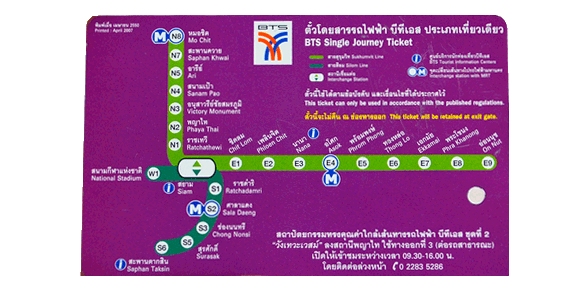 One-day Pass
Unlimited travel within the duration of a single day for 140 baht. Ideal for tourists.
Standard Rabbit Card / Stored Value Cards
These are available for 100 baht plus 50 baht refundable deposit. The Standard Rabbit Cards are valid for 5 years and can be filled with a minimum of 100 baht and up to 4,000 baht.
30-Day Pass for Adults
- 15 trips (use within 30 days), 25 baht per trip unlimited distance, it costs 375 baht.
- 25 trips (use within 30 days), 23 baht per trip unlimited distance, it costs 575 baht.
- 40 trips (use within 30 days), 21 baht per trip unlimited distance, it costs 840 baht.
- 50 trips (use within 30 days), 20 baht per trip unlimited distance, it costs 1,000 baht.
---
Info
Address : BTS Building, 1000 Phahonyothin Rd., Chomphon, Chatuchak, Bangkok
Telephone: 02 617 7300
Fax: 02 617 7133
Website: www.bts.co.th
Bangkok Public Transportations
Find the best Hotel in
BANGKOK

at "Lowest Price"