Mu Ko Surin National Park
The Surin Islands is a small archipelago of five islands located in the Andaman Sea, approximately 60 Km off the West coast of Southern Thailand. The archipelago is administratively part of Tambon Ko Phra Thong, Amphoe Khura Buri, in Phang Nga Province. Since July 9, 1981, the five pristine islands were declared national park and named "Mu Ko Surin Marine National Park", where "Mu Ko" means cluster of islands in Thai language. The park covers an area of approximately 141.25 square kilometres of which 80% are ocean. The main islands of archipelago are Koh Surin Nuea and Koh Surin Tai, which are separated only by 200 meters of shallow sea, at low tide can walking from one to other. The other three small islands are rocky outcrops, which just protrude from the ocean with some dwarf trees. They are: Koh Ree, also known as Koh Chi or Koh Satok, Koh Klang aka Ko Pachumba and Koh Khai aka Torinla Island. The two largest islands have many bays with white sand beaches and the typical vegetation subtropical. Limited areas of mangrove forests are located in the brackish waters of Mae Yai Bay in Koh Surin Nuea. Admission fee is 200 Baht for adults and 100 Baht for children. Note that the park is closed due to rough sea from late April until 1st November, but dates may vary each year.
Park's Highlights
Surin Archipelago is one of the most beautiful and diverse dive destinations in Thailand, its world-famous Richelieu Rock is regarded as one of the best dive destinations in the world, according to the National Geographic Society, a "must" for divers and snorkellers. The crystal clear waters of Surin Islands are full of marine life. Its stunning coral reefs and the surrounding waters are home to almost all marine species in the Andaman Sea. The insulation offshore of islands and the presence of large shoals of plankton and baitfish make the Surin Islands centres of attraction for fishes and invertebrates. Beautiful colourful anemones, sea fans and coral provide shelter to Clownfish, Damselfish, Anemonefish, Surgeonfish, Harlequin Rasbora and Seahorses. Between cracks and crevices there are a huge variety of invertebrates like Octopus, Crabs, Shrimps, Lobsters, Zigzag Clams and Oysters. The reefs are a perfect habitat for Nubibranchs, Glassfish and other baitfish, which it is why you will see so many predators here, such as Lionfish, Scorpionfish and Moray Eels. Near the reefs swim Turtles, Flying Perch, Ornate Ghost Pipefish, Butterflyfish, Cuttlefish, Squid and Emperor Angelfish. Near the seabed are resident large Groupers, Leopard Sharks, Black Tip and White Tip Reef Shark. In the surrounding waters swim in circle large shoals of pelagic fish, such as Amberjack, Dorado, Napoleon Wrasse, Barracuda and Trevally. In the Surin Islands there are frequent sightings of Dolphins, Black Marlin, Kawakawa Tuna, Dogtooth Tuna as well as two of largest pelagic species of the oceans, the Whale Shark and the Manta Ray. Aside Richelieu Rock, which is a submerged limestone rock, the coral reefs of the Surin Islands are mostly constituted by large granite boulders covered with a huge variety of corals and anemones. Underwater the scenery is really fantastic with beautiful gardens of colourful anemones, barrel sponges, gorgonian sea fans, soft and hard coral in the most varied forms, like deer staghorn, leaves and mushrooms. As well as for the Similan Islands, the impact of the 2004 Tsunami on the Surin Islands was much lower than expected; only a third of the corals were heavily damaged. Consequently there has been no significant change in its coasts and coral reefs.
Koh Surin Nuea is the main island of Surin Archipelago. Separated from Koh Surin Tai only by 200 meters of shallow sea, at low tide you can walk from one to the other. Koh Surin Nuea has many bays with white sand beaches and the typical vegetation subtropical. Limited areas of mangrove forests are located in the brackish waters of Mae Yai Bay. Ao Chong Kaad is the main bay on island. Located in the south of island, it has a pristine white sand beach surrounded by crystal clear water, which is ideal for both snorkelling and scuba diving. Among the thick vegetation of the bay there is the reception house of Park HQ on archipelago. Ao Mai Ngam is the other most known bay of Koh Surin Nuea. Located in the west coast, it is accessible by a walking path along 2 km from the HQ. The path named Ao Mai Ngam Nature Trail through an evergreen forest allowing you to appreciate the pristine nature of the island. Along the path, can be seen various species of flora and wildlife such as Mouse Deer, Flying Lemur, Nicobar Pigeon and Pied Imperial Pigeon. The large bay is characterized by a long curved beach with soft white sand and calm crystal waters. Ao Sai En is situated east of island. Here lives one of two small communities of ethnic minority Moken, also known as Chao Ley or sea gypsies. Please not that except the Moken village and campsites, most of the land area on islands is off limits to the visitors; is provided a fine of 2,000 THB for offenders.
Koh Surin Tai is the second largest island of archipelago, practically attached to its bigger sister in the period of low tide. The entire island is off limits for visitors, apart from its Moken village, due to strict wildlife conservation rules to protect the ecosystem. Nevertheless, the island offers several diving and snorkelling spots around it, often used by visitors with daily trips. Turtle Ridge is a long beautiful sloping coral reef on the southeast side of the island. With a depth comprised between 5 and 20 metres, it is a great dive site with good chances of spotting Hawkbill and Green Sea Turtles. Pak Kaad is a rocky bay whit a beautiful reef ideal for snorkelling. Located in the south side of the island, it offers frequent sightings of Barracudas, Titan Triggerfish, Emperor Angelfishes, Butterflyfish, Unicornfish, Pufferfish and many other reef fish. Suthep Bay is situated on northwest of the island, the bay has Thailand's first underwater snorkelling trail marked with signs. Tao Bay located on southeast of island is one of most popular spots among the snorkellers but also ideal for scuba diving. Ao Bon is located on east side of Koh Surin Tai and it is inhabited by another small community of Moken sea gypsies. Read More
Headquarters and Campsites
The reception house of Park HQ on archipelago is located between the thick vegetation in Ao Chong Kaad, the main bay in Koh Surin Nuea. Here are also located the Park's main campsite, a laundry service, a small shop, a restaurant, toilets with shower facilities, and a small Scuba Centre for rent diving and snorkelling equipment. The campsite provides 16 bungalows for 2 persons each at 2,000 THB per night; the tents cost 300/450 THB per night. While those who has their own tents will pay 40 THB fee person per each overnight stay. The other smaller campsite is behind the beach at Ao Mai Ngam, the bay located in the west coast of Koh Surin Nuea. It is accessible by a walking path along 2 km from the Park HQ. Campsite's facilities include toilets, shower facilities and a cafeteria with limited choice of meals.
---
Info
Address Park Office: Tambon Khura, Amphoe Khura Buri, Phang-Nga
Telephone: +66 7649 1378, +66 7649 1582
Website: www.dnp.go.th
Admission fee: 200 THB for adults and 100 THB for children
Getting There & Weather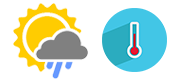 All along the west coast of southern Thailand, where lie the Surin Islands, the best weather conditions exist from November to April. A cool dry period, characterized by a constant sunny weather, the average temperatures are between +27° C and +33° C, the surface conditions are generally calm and the water temperature is between 26° C and 30° C. The speedboat tours and dive cruises to the archipelago run daily from 1st November until 1st May. During the monsoon season strong winds swell the surface of the Andaman Sea making the navigation very dangerous, and therefore the Park is closed for safety from 15 May until 15 October, but dates may vary each year.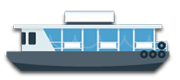 Surin Islands sit in open sea off the coast on Andaman Sea, about 60 Km from the west coast of Phang Nga Province. A few kilometres north there is the Myanmar sea border and about 100 Km south is the Mu Koh Similan National Park. The nearest access to the islands is Khura Buri, a small coastal town 90 km north of Khao Lak, the famous tourist resort in Phang Nga Province. From Kara Bhuri's pier departs all daily excursions organized by tour operators to Marine Park, the trip take about 70 minutes by speedboats. Instead, the multi-day diving cruises to Surin and Similan Parks usually depart from Thap Lamu, a small fishing village located just 15 km from Khao Lak. There is no regular boat service for single travellers to Koh Surin from Khura Buri. However, there are a few choices available to reach the islands independently. Among these the cheapest is a place on the deck of fishing boats, about 1,000 THB for a trip of 4 hours. Some tour operators offer also the simple round trip on speedboat for a cost between 1,600 and 2,200 THB. This price includes only the boat passage is instead excluded anything that offers the package tour, but it is a good option for those who wish to see the islands independently. There is also a boat owned and operated by the National Park, a trip that takes 4 hours and costs 1,500 THB. It leaves each day at 09:00. The streets of Khao Lak, Phuket or Krabi are full of tourist agencies and kiosks selling the tour packages offered by many authorized operators. Beware and compare rates before choosing between them, considering not only the cheaper price but also the quality of the proposed service. The majority of these tours provide the transfer by minivan from your hotel with departure at about 06.00; arrival to Khura Buri Pier at 08:30 and departure with the speedboats; arrival to Surin Islands at 10:00; two stop around the islands to enjoy snorkelling and swimming; a long stop for lunch buffet and relax on Koh Surin Nuea; the visit of Moken Village in the afternoon and another stop around the islands to enjoy snorkelling and swimming. The departure time from the Surin Islands is at 15.30; the arrival time at the hotel is between 19.30 and 20.00. The cost of daily excursion from Khura Buri range from 2,800 to 3,500 THB depending on the company and eventual options chosen, and include refreshment on board, the lunch buffet, snorkelling equipment, tour guide, insurance and National Park admission fee, 500 THB for adult and 300 for children. The round trip is performed by large offshore speedboats with engine powers which are close to 750 hp.
We Sugest

---
Find the best Hotel in
Phuket

at "Lowest Price"
Find cheapest airfare to Thailand
---
Southern Bus Terminals and Schedules
Reach Phuket & Move Around
Phuket International Airport, IATA code HKT.
Drive Around Phuket and stop to every single beach, or enjoy the freedom...