Doi Inthanon National Park
Established in 1972 to protect four of the main tributaries of the Mae Ping river, Doi Inthanon National Park is one of Thailand's most famous natural parks. Located 58 kilometres south-west of Chiang Mai, the Park covers an area of 482 square kilometres in three districts of Chiang Mai province, mostly covered by dense evergreen forests. Also known as "The Roof of Thailand", the Park is part of the Himalayan mountain range and includes the Doi Inthanon, which is the Thailand's tallest peak, 2565 metres above the sea level, and park's main attraction. Due to its northernmost location and the high altitude, the Doi Inthanon Park has high humidity and cold weather all year round with average daily temperatures that range between 10° C and 16° C and that can approach to Zero Celsius in the night. Unique area of Thailand that reaches similar heights and temperatures, the park is also one of the few places where grow oaks, chestnut trees and other forms of vegetation that are typical of the temperate regions, as well as flora that is typical of cold climates like epiphytic lichens, mosses and orchids. Park's entrance fee for foreigners is 300 Baht, 150 Baht for children, and 120 Baht for locals, 60 Baht for children. There is an additional fee of 30 Baht for vehicles and 30 Baht per night if you intend to camp.
Park's Highlights
In addition to the stunning 360 degree view that is enjoyed from the summit of Doi Inthanon, the Park offers to visitors several high waterfalls, few scenic hiking trails and the beautiful flower garden that hosts the Phra Mahathat Napha Methanidon and Phra Mahathat Naphaphon Bhumisiri, the majestic twins chedis dedicated to the King and Queen's 60th birthday anniversaries. Cool climate lovers should visit the park from late December to late February, a period that corresponds to the Thai winter during which the park offers one of its most beautiful seasonal attractions, namely when the blossom of Siamese Sakura flowers covering trees in pink all over the area. Instead the best season to enjoy the park's waterfalls is during the rainy season from May to November, although most of the waterfalls within the park have relatively good water flow all year round. The forest in the park is one of the country's very significance and valuable heritage. Forests include Moist Evergreen forest, Pine forest and Mixed Deciduous forest, worth in economic like teak and mountain pine. In addition to these, there are many beautiful flowers including vanda orchid, phycastylis and rhododendron. Sphagnum Moss and osmanda fern are found at higher levels in the park. The park is one of Thailand's top destinations for bird watching lovers, with good chance to sight several different species of birds. At least 180 are listed as common and abundant, such as green and purple cochoa, green-tailed sunbird, speckled and ashy wood pigeons, rufous-winged fulvetta, ashy-throated warbler, sikkim treecreeper, bar-throated minla, and maroon oriole. The Centre for Wildlife Research at Mahidol University has recorded total of 362 bird species present, a number which makes it the second Thai park for sightings after Kaeng Krachan National Park. The park is also home to at least 60 species of small and medium mammals, such as Macaques, Monkeys and Gibbons, Asian Black Bear, Shrews, Deer and Serows, Wild Boars, Siamese Hares, and several Bat species. Inside the park there are a few villages of Hill Tribe, Karen and Hmong/Maew, for a total of about 4,500 people.

Doi Inthanon is the Thailand's tallest peak; from its summit you can enjoy a stunning view, especially between November and December, when a solid haze covers the mountain slopes. On top of mountain there is the stupa containing the remains of King Inthawidhayanon that was the last king of Chiang Mai. From the parking area, opposite to Ranger Station, starts a self-guided nature trail which descends to a small karst depression amongst beautiful Red Rhododendron blossoms.
Phra Mahathat Napha Methanidon and Phra Mahathat Naphaphon Bhumisiri are two beautiful chedis dedicated to the King Bhumibol Adulyadej and Queen Sirikit's 60th birthday anniversaries.Located 5 km from the summit, the twins pagoda sitting on two nearby peaks, both share the similar sizes, design and color and are linked with a walking path through a stunning flower garden.
Namtok Mae Pan is the longest non-cascading waterfall in Chiang Mai, which flows from a 100-metre high cliff. Its charm can be enjoyed standing at some distance from the falls. The white water and the green forests around the falls makes the set a beautiful picture. Despite its beauty, the waterfall is less visited by local tourists due to its relatively remote location inside the park. To get to the waterfall from km 38 of rural road 1009 turn on the Doi Inthanon-Mae Chaem rural road, reported as # 1192, and follow it for roughly 6 km, as soon as will be seen the sign that indicates the waterfall drive on an unpaved road for other 9 km till the parking area. From there, the charming waterfall can be reached by a ten-minute walk.
Namtok Mae Ya is one of the Chiang Mai's most beautiful waterfalls. Water flows from a 280-metre steep cliff onto different rock formations in a lower basin, creating a beautiful scene. The main tier that tourists see once they get there is a 40 to 50 meters high. This nearly 100 meters wide tier has quite an impressive view. To get to the waterfall from km 1 of rural road 1009, the National Park's main road, turn left onto an asphalt road and follow it for about 13,5 km, halfway you will also meet the Mae Ya Waterfall Checkpoint where you can pay the access to the park.
Namtok Mae Klang is the first waterfall you meet on the National Park's main road, located just 600 meters south of the checkpoint at the southeast part of the park. It is 100-metre high waterfall over several tiers with the highest tier nearly 25-30 meters high. To get to the waterfall from km 8 of rural road 1009 turn left onto an asphalt road and follow it for 500 metres.
Tham Bori Chinda is a large limestone cave located near Tourist Information Center, featuring two chambers with dramatic stalactite and stalagmite formations. The cave is accessible from the km 9 of rural road 1009, 1 km north of checkpoint at km 8, with less than an hours trekking from the main road.
Namtok Sirithan is a splendid waterfall that falls from a steep cliff in two lines, which can be seen en route to Doi Inthanon summit. The attractive waterfall is easily accessible by a 200 meters long trail that departs from the parking area located at km 22 of National Park's main road.
Namtok Wachirathan is a large waterfall located not so far from National Park's main road. At Km 20.8 of rural road 1009 turn right and follow the small road for 2 kilometres. The base of the waterfall is approachable with a short trail on foot from the end of road.
Kaew Mae Pan Nature Trail: starts from Km 42 of National Park's main road. This short trail, winding through pristine forest for about 2.5 kilometres, a 3-hour walk, allows the hiker to experience the natural beauty of the forest at first hand. The Rhododendrons, commonly found in the Himalayas, are found along the trail and they are in full bloom during December-February.
Doi Inthanon Royal Project is located in Khun Klang village close to the Park Headquarters. The project was initiated in 1979 to help the hill tribes to cultivate cash crops other than opium and train them on modern agricultural practices. Most produces are temperate zone plants. Flower plantations, a plant breeding research lab and flower plantations of Hmong tribes are open to visitors.
Doi Inthanon Bird Watching Information Centre is located at Km 31 on the National Park's main road, inside "Uncle Daeng's Shop" next to Park Headquarters. This is a bird information exchange centre among bird watchers, nature students and the general public. The information details the habitat and food of birds and animals living on Doi Inthanon. The aim is to pass on this knowledge to the next generation. It also provides the Doi Inthanon Bird watching Diary, bird sketches by various bird watching experts, bird watching trails, bird pictures, and slides. Read More
Headquarters and Campsites
The Park's main entrance is located at km 8 of rural road 1009, accessible from the Highway 108, about 70 km southwest of Chiang Mai. At this 1st Checkpoint you have to pay the Park entrance fee, 300 THB for foreigners, children 150 THB, and 50 THB for local tourists, children 20 THB. Access is allowed from 5:30am till 6:30pm. A first visitor centre is located just 1 km ahead, an other is on the summit of Doi Inthanon after 39 km, and both are available for any information about the Park. Doi Inthanon Park Headquarters is situated at km 30.8 close to Ban Khun Klang, a small Hmong village. Next to HQ there are a few restaurants, a small market and an ATM. Adjacent to the village, 500 meters north of Headquarters, is a large campsite for tents and even 11 guest houses available for public rental. Electricity, beds and bedding are provided in all bungalow units. Arrangements for these accommodations should be made at HQ, while tents can be rent at the entrance to the campsite. The smaller three-person tent costs 250 THB per day, while the bigger ones for 5 people costs 400 THB per day, sleeping bags and pillows included in the price. Firewood is provided and campfires are permitted throughout the year. There are no restaurants in the campsite; the nearest options are around the HQ and the market. There is also a youth hostel and a campsite near to Mae Pang Waterfall area, but there are no tents available for rent and no restaurants nearby. Food stalls serving meals, drink and snacks are located at several places in the park, among which the best are at parking close to the twins chedis and at summit of Doi Inthanon.Read More
---
Info
Address Park: Tambon Ban Luang, Amphoe Chom Thong, Chiang Mai
Telephone: +66 5335 5728, +66 5326 8550
Admission fee: 300 THB for adults and 150 THB for children
Website: www.dnp.go.th
Getting There & Weather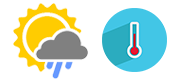 The climate of Thailand is tropical in nature, driven by monsoon and divided into microclimates due to the geographical shape of the country that allows it to lie within many meridians. The Northern Thailand has three distinct climatic seasons as follows. The Cold Season: A relatively cool dry period that runs from November to February when the monsoon blows northwest. During this period most of the northern mountains areas have temperatures that can approach to Zero Celsius in the night. Indeed, due to its location and the the high altitude, the park has the coldest temperatures of Thailand. The average temperature in this period range between 19° C and 25° C in the day and between 10° C and 16° C at night. Temperatures can drop to 6° C during the nights of February. The Hot Season: A warm period that starts in March until mid-May also characterized by occasional rain. The northern mountains areas have intense heat and high humidity during all this time with average temperatures ranging from 29° C to 35° C. At times there can be temperature peaks even higher than 40° C. The temperature usually hits its highest point in mid-April. The Rainy Season: This period starts from May until October influenced by the southwest monsoon during which rainfall is more frequent and intense. However, as can be said for the term "cold season", the term "rainy season" can be slightly misleading. While the rain during this season can be intense with furious storms and showers, they usually do not last more than a day. Sunny are also not uncommon during this time a well. The average temperature during this time is between 28° C and 30° C with the humidity usually well over 70%.

Park's main entrance is located roughly 73 kilometres west of walled center of Chiang Mai. To get there, you can drive yourself a hired car, join an organised minibus tour, or hire a songthaew for the whole day. A songthaew, two-bench partially open-air taxi, will cost about 2,000 THB for the whole day including gasoline usually, ask first to avoid surprises. A minibus tour will cost around 1,200-1,500 THB with an English-speaking guide, including lunch and the National Park fee, 300 THB. The day tour usually includes the transfer round trip from your hotel in Chiang Mai, the visits to the peak, two waterfalls, the twin chedis, and a Karen village. Pick-up at your hotel is at 8:00-8:30, and return is expected to 16:30-1700. In Chiang Mai you can rent a car at prices ranging from 1,000 to 2,000 THB a day, depending on the model and rental company. At airport terminal you will find the offices of the major car rental companies such as Avis, Budget and Hertz, which offer excellent car covered with full insurance. Inside city, the local hire agencies offer cars of good quality at similar price, however, sometimes they do not have insurance that covers the full damage, so make sure of it before you have unpleasant surprises. To reach the Park from Chiang Mai follow the Highway 108 up to Chom Thong, about 70 km, then turn right into Highway 1009 and continue for 8 km until the 1st Park Checkpoint; once paid the entrance fee, 39 km of winding road separate you from the summit of Doi Inthanon.

Chiang Mai International Airport, IATA code CNX, is an international airport serving the city of Chiang Mai, the capital of the homonymous province in northern Thailand. The airport was founded in 1921 as Suthep Airport, and is the main gateway to northern Thailand. Currently it's the fourth busiest airport in the country. 17 airlines operate there with more than 5.3 million passengers, 43,000 flights and 18,000 tons of cargo handled. On January 24, 2011 the airport became a second hub for Thai AirAsia. Chiang Mai International Airport is situated about three kilometres southwest off the old town, and has two terminal twins, one for international departures and arrivals and the other for domestic flights. The arrivals halls of both terminals are located on the ground floor, while the second floor is for departures. The airport is well served by various means of public transport, taxis or songtaews. Songtaews cannot get inside the terminal without passengers. Accordingly, if you have just arrived, you can only find them on the main road opposite the airport. Inside the airport there is also a bus service, which runs every 20 minutes to the Old City. In the terminals there are offices of major car rental companies, such as Avis, Budget and Hertz, currency exchange offices and tourist agencies. The airport is open in the evenings until midnight and reopens at 05:00 am.

Buses and minibuses offer different choices to get to Chiang Mai from Bangkok, or from other cities of tourist interest. Many tourists use buses lately, although the duration of travel, since when are available the comfortable VIP buses, which often traveling at night and allow to recover time for the holiday. Chiang Mai has two bus stations, consisting of three different terminals, one, the oldest, in city centre, the new one outside the city walls. The Chang Puak Terminal 1 is the old bus station in Chotana Road, just north of the central moat, about 1 km north of Chang Phuak Gate. From Chang Puak depart all buses to various districts of the Chiang Mai province, like Mae Rim, Chiang Dao, Fang, Tha Ton, Phrao, Samoeng, Chom Thong and Doi Tao. The station is in a good central location and, if you must use them, you can reach it even walking. The new one is the Chiang Mai Provincial Arcade Bus Station, located just outside Kaew Nawarat Road to the east of the city moat, about 3 km from the city centre. Arcade is a huge bus station and has two terminals, Terminal 2 and 3 adjacent each other, separated only by a tuk-tuk stand and a road. All buses, and minivans, from and to destinations outside Chiang Mai province use the Arcade station. The available destinations include not only all the other provinces or cities in northern Thailand, such as Chiang Rai, Mae Hong Son, Mae Sariang, Nan, Lampang, but also the provincial capitals of central and eastern regions, such as Sukhothai, Nakhon Ratchasima, Khon Kaen, Ubon, Bangkok as well some seaside resorts, like Hua Hin, Koh Chang and Koh Samet. Currently there are more than 40 different transport companies operating from the Arcade Station, all with different itineraries, prices, quality of services and timetables. Depending on the destination and the transport company buses depart from Terminal 1 or 2, but often, in classic Thai style, to the same destinations buses leave from both terminals, and in the same way behave the companies.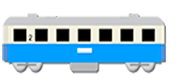 Trains are a good alternative to buses to get to Chiang Mai from Bangkok, although the trains are are slower of buses, but they offer more chance of sleeping during overnight trips, in case you choose a class with sleeping bunks. The first-class provides private cabins with two seats and air conditioning, the seats inside are transformed into two beds. The second-class does not provide private cabins; it has wagons with bunk beds separated by curtains or seating with comfortable padded seats, both with or without air conditioning. There are five daily departures from Hua Lamphong Railway Station in Bangkok toward North, reaching Chiang Mai in about 13 hours. A third-class seat from Bangkok to Chiang Mai costs 271 THB. A second-class seat costs 431 THB with fan, 641 THB with air-con; a second-class upper berth with fan costs 531 THB and 581 THB for lower berth, while with air-con the prices are 821 and 751 THB. A first-class upper berth in private cabin costs 1,253 THB and 1,453 for lower berth, it means a two-person air-con sleeping compartment complete with washbasin. To find availability in first and second class booking in advance is highly recommended, a few days for the seats and as soon as possible for bunks and sleeping cabin. The SRT has tried to make Advance Booking as easy as possible; in fact, you can book tickets up to 60 days ahead at any railway stations and up to 30 days ahead online.
We Sugest

---
Find the best Hotel in
Chiang Mai

at "Lowest Price"
Find cheapest airfare to Thailand
Useful Bus Terminals
Reach Chiang Mai & Move Around