Islands around Trang
Trang is one of the southern provinces of Thailand, on the west side of the Malay Peninsula facing the Strait of Malacca. The province's landscape is characterized by a hilly interior, which is part of long Tenasserim Hills, forests of rubber and palm oil trees, limestone rocks and mangrove swamps along its coasts. Located 710 km south of Bangkok, Trang city is the provincial capital. With about 60,000 inhabitants, the city lies on the Trang River, roughly halfway between the Tenasserim Hills and the coast of the Andaman Sea. The city itself does not have much to offer tourists; most of visitors that reach Trang are in transit to the nearby islands. Scattered along its coastline lie at least 40 island and islets, most of them are under the protection of Hat Chao Mai National Park and Mu Ko Phetra Marine National Park. Less known and visited than the most famous islands near Krabi's coastline, like the world-known Phi Phi Islands, most are unspoiled tropical paradises characterized by pristine white sandy beaches and stunning limestone cliffs, which very closely resemble those located in Phang Nga Bay and Phi Phi Leh. Only few of them are quite large, with hotel accommodations and facilities for tourists, like Koh Kradan, Koh Mook, Koh Libong, most are small and without any kind of facilities, but they are ideal spots for day trips.Read More
---
Info
Hat Chao Mai National Park: Tambon Mai Fat, Amphoe Sikao, Trang
Mu Ko Phetra National Park: Pak Nam, La-ngu, Satun
Telephones: 07 521 0099 - 07 478 3074
Website: www.dnp.go.th
Admission fee: 200 THB for adults and 100 THB for children
Get to Trang & Weather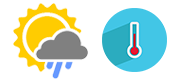 All along the west coast of southern Thailand the average temperature is about 24° C to 34° C, all year round. The best time to visit the island surrounding Trang is between November and March, when the humidity is lower and the average temperature is 28° C with cool evening breezes; the surface conditions are generally calm and the water temperature is between 27° C and 30° C. During the rain season, from early May until November, the southern Thailand is influenced by the southwest monsoons and rainfall is more frequent and intense, but still worth a visit because the rainfall usually do not last more than a day or all day and sunny days are not rare even in this period. The average temperature during this time is between 24° C and 33° C with the humidity usually well over 70%.

Trang is situated about 710 km south of Bangkok. To get there you can choose between two travel options, one that provides the use of planes and a more economic that provides the use of buses or trains. Trang Airport, IATA code TST, is located in Tambon Khok Lo, 7 km from the city centre. Currently Nok Air and Thai Air Asia operate flights to this airport, with connections to Don Mueang Bangkok. Nok Air offers two daily flights, while Air Asia operates three daily flights. Both companies also offer a combo ticket, flight+ferry, until Koh Lipe, Koh Mook, Koh Kradam and Koh Ngai. Ticket can be booked directly from their website. Directly from the airport, depart the taxis and minivans towards the Had Yao Pier, the Trang's main pier from where the majority of ferries leaves. The cost of a shared minivan is roughly 150-200 THB per person.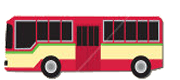 To get to Trang from Bangkok you can also use the good Thai bus network. Buses are cheaper of flights and are a good alternative in high season, when flights to Trang are full and hard to find if not booked in advance. Many tourists use then lately, despite the length of travel, since when are available the comfortable Vip buses with few comfortable seats, toilet and air conditioning. Buses to Trang from Bangkok depart from the Southern Bus Terminal, known as Sai Tai Mai Taling Chan, located north-west of the city centre on the west bank of the Chao Phraya River. You can buy tickets directly at terminal or at any travel agency in Bangkok, prices are not negotiable. The cost of a ticket ranges from 1,050 THB, for a seat in a VIP bus, to 650 THB for a seat in a 2° Class bus, for a trip that takes about 12 hours, roughly 850 Km. Trang's main bus terminal, Bor Kor Sor Mai, is located four km east of the railway station in a Soi close to Phet Kasem Road, the long Highway 4 that connects Bangkok to southern Thailand. It is the point of arrival and departure of all buses that connect the city to the capital, and of almost all buses and minivans that run from Trang to the other southern destinations, cities and the most famous seaside resorts, like Phuket, Krabi, Samui and Koh Lanta. The departures are frequent through the day, hourly for the most useful destinations, and the ticket prices range from 130-150 THB, for a seat in a bus or minibus until Krabi, to 400 THB for a seat in a VIP-bus until Phuket, a four-hour trip. The main bus terminal is also the starting point of most minivans that reach the several piers along the Trang's coast, as Had Yao, Pak Meng, Khuan Tung Ku and Laem Tase. A seat in a shared minibus varies from a minimum THB 150, for Hat Yao, to a maximum of 350 THB for the farest Laem Tase. There's also an old bus station, Bor Kor Sor Gao, located just two km north of railway station on Sathanee Road, but only a handful of local bus, minibuses and song-thaews still use it.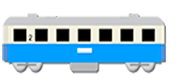 Trains are a good alternative to buses to get to Trang from Bangkok, although the trains are are slower of buses, but they offer more chance of sleeping during overnight trips, in case you choose a class with sleeping bunks. The first-class provides private cabins with two seats and air conditioning, the seats inside are transformed into two beds. The second-class does not provide private cabins; it has wagons with bunk beds separated by curtains or seating with comfortable padded seats, both with or without air conditioning. There are two daily departures from Hua Lamphong Railway Station in Bangkok towards Trang at 17:05 and 18:20, and reach Trang Railway Station at 7:55 and 10:20. A first-class upper berth in private cabin costs 1,200 THB and 1,350 for lower berth, it means a two-person air-con sleeping compartment complete with washbasin. A second-class seat costs 500 THB with fan, 600 THB with air-con; a second-class upper berth with fan costs 550 THB and 600 THB for lower berth, while with air-con the prices are 900 and 800 THB. To find availability in first and second class booking in advance is highly recommended, a few days for the seats and as soon as possible for bunks and sleeping cabin. The SRT has tried to make Advance Booking as easy as possible; in fact, you can book tickets up to 60 days ahead at any railway stations and up to 30 days ahead online. Trang Railway Station is located at the western end of Rama VI Road in the heart of town. Coinciding with the arrival of trains from Bangkok, the minibuses that leave from the bus terminal to reach the piers along the coast stops also here.
We Sugest

Find the best Hotel in
Krabi

at "Lowest Price"
Southern Bus Terminals and Schedules
Reach Krabi & Move Around
Krabi International Airport, IATA code KBV.
Drive Around Thailand and stop every Place, enjoy the freedom...