Doi Luang National Park
Located 65 kilometres south of Chiang Rai, Doi Luang National Park is one of the largest national parks in Northern Thailand. The park extends over a total area of 1,170 square kilometres setting in Amphoe Mae Suay, Amphoe Phan and Wiang Pa Pao in Chiang Rai Province, Amphoe Wang Nuea and Amphoe Ngao in Lampang Province, as well as Amphoe Mae Chai and Amphoe Mueang Phayao in Phayao Province. It was established on 16 April 1990 as the 61st Thailand's national park, combining the area of four existing forest parks named Champa Thong, Pu Kang, Pha Klet Nak and Wang Kaew. The topography of park consists in a high-mountain landscape stretches from north to south, which is the north-westernmost part of the Phi Pan Nam Range. The mountain range is the watershed area between the Wang River at west and Yom, Lao and Ing rivers at east. Doi Luang is the park's highest peak at 1,694 meters. The mountain rises in the southern edge of park in Tambon Ban Tun of Phayao Province, less than 7 km to the north of Highway 120. There are a number of less high mountains with the name 'Doi Luang' throughout the same range, including a Doi Luang 1,426 high located towards the northern end of the park in Mae Chai District. Admission fee is 100 Baht for adults and 50 Baht for children. Note that the park is closed from 1 September to 31 October every year to revive.
Park's Highlights
Geologically, most of exposed park's soil is laterite mixed with rock, especially on the top of the mountains, while is easy to find gravel mixed with sandstone and fertile black soil in deep valleys. Due to the great differences in altitude and soil, the park contains tropical evergreen, mixed deciduous and dipterocarp forests characterized by an enormous wealth of plant species including Mesua ferrea, Hopea Odorata, Toona Ciliata, Lagerstroemia Tomentosa, Irvingia Malayana, Ironwood, Shorea Obtusa, Dipterocarpus Tuberculatus and many kinds of Fagaceae and Bamboo. The lush vegetation is home to several animals species like Muntjak, Deer, Wild Boar, Asian Black Bear, Siamese Hare, Macaques, Indochinese Leopard, Bamboo Rat, Flying Squirrel, Monkey and perhaps even Tiger. Many kinds of bird can be seen here, including Vernal Hanging Parrot, Partridge, Richard's Pipit, Palm Civet, Civet, Sooty-headed Bulbul, Blue-winged Siva, Red-billed Blue Magpie and Blue-Winged Pitta. The forests, ever above 1000 meters in altitude, are ideal for hiking with a fresh and pleasant climate throughout the year and an average temperature between 20° C and 23° C. There are many hiking trails through the lush vegetation; some trails are suitable for beginners, others are more suitable and recommended for expert hikers.
Namtok Pu Kaeng is one of the biggest waterfalls in Chiang Rai and one of park's main attractions. Also reported as Poo Kaeng, it is located just 2 Km south of park's headquarters in Ban Pu Kaeng, Amphoe Phan, Chiang Rai. The huge waterfall in the middle of the virgin forest is a fall of water on 9 levels. Coming from the high limestone mountains behind it, the water is rich of sediment and as result it creates several caves and spectacular limestone formations, both stalactites and stalagmites. Water flows all year round.
Namtok Wang Kaew is one of the most beautiful waterfalls in Doi Luang National Park, higher than Poo Kaeng waterfall. Originating from the limestone accumulation, the 102-meter high waterfall offers spectacular scenery and water flows water all year round.Read More
Headquarters and Campsites
Park Headquarters is located in Ban Pu Kaeng, Amphoe Phan, Chiang Rai. To reach the HQ and park access from Chiang Rai follow southbound the Chiang Rai-Phayao Highway, Phahonyothin Road, for about 58 kilometers reached Ban Poo Kaeng turn right and follow the signs to the park, located at about 9 Km from the main road. At HQ is the Ranger Station, an information and visitor center, a car park, rest rooms, a grocery stores and a bungalow. Within the park there are several camping areas for those who bring their own gear and tents, at HQ there aren't material for rent.
---
Info
Address Headquarters: Ban Pu Kaeng, Amphoe Phan, Chiang Rai
Telephone: +66 5316 3363, +66 5360 9042
Admission fee: 200 THB for Adults and 100 THB for Child
Website: www.dnp.go.th
Getting There & Weather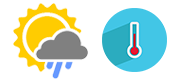 The climate of Thailand is tropical in nature, driven by monsoon and divided into microclimates due to the geographical shape of the country that allows it to lie within many meridians. The Northern Thailand has three distinct climatic seasons as follows. The Cold Season: A relatively cool dry period that runs from November to February when the monsoon blows northwest. During this period most of the northern mountains in Chiang Rai areas have temperatures that can approach to Zero Celsius in the night. The average temperature in this period range between 19° C and 25° C in the day and between 10° C and 16° C at night. Temperatures can drop to 6° C during the nights of February. The Hot Season: A warm period that starts in March until mid-May also characterized by occasional rain. The northern mountains areas have intense heat and high humidity during all this time with average temperatures ranging from 29° C to 33° C. At times there can be temperature peaks even higher than 38° C. The temperature usually hits its highest point in mid-April. The Rainy Season: This period starts from May until October influenced by the southwest monsoon during which rainfall is more frequent and intense. However, as can be said for the term "cold season", the term "rainy season" can be slightly misleading. While the rain during this season can be intense with furious storms and showers, they usually do not last more than a day. Sunny are also not uncommon during this time a well. The average temperature during this time is between 22° C and 30° C with the humidity usually well over 70%.

Park's Headquarters is located in Ban Pu Kaeng, Amphoe Phan, Chiang Rai. To reach the HQ from Chiang Rai follow southbound the Chiang Rai-Phayao Highway, Phahonyothin Road, for about 58 kilometers reached Ban Poo Kaeng turn right and follow the signs to the park, located at about 9 Km from the main road. To get there, you can drive yourself a hired car, use the ordinary and air conditioned buses running frequently between Chiang Rai and Phayao, or hire a taxi or a local songthaew for as long as you need it. Consider that a songthaew, two-bench partially open-air taxi, will cost about 2,000 THB for the whole day including gasoline usually, so ask first to avoid surprises. In Chiang Rai you can rent a car at prices ranging from 1,000 to 2,000 THB a day, depending on the model and the company rental. At airport terminal you will find the offices of major car rental companies, such as Avis, Budget and Hertz, which offer excellent car covered with full insurance. In the city are also local hire agencies, spread a little everywhere in the centre, which in turn offer cars of good quality at similar prices, but, sometimes, they do not have insurance that covers the full damage.

Mae Fah Luang International Airport is the airport of Chiang Rai. It is located about 10 km north from the city centre. The main companies operate several daily flights to Bangkok and nearby Chiang Mai. The road linking the airport to Chaing Rai is Phaholyothin Road, the name given to the stretch of Asian Highway AH2 that goes through the city and continues to the border with Myanmar. You can reach the city by private taxis available at the terminal at a cost of 200 THB, or collective taxis songthaews passing on the highway. Inside the airport there are also international car rental companies.

Buses and minibuses offer different choices to get to Chiang Rai from Bangkok, or from other Thai cities of tourist interest. All buses to Northern Thailand from capital leave from the Bangkok Northern Bus Terminal better known as Mo Chit, which is the biggest bus station in Bangkok. Chiang Mai has two bus stations, consisting of three different terminals, one, the oldest, in city centre and the Chiang Mai Provincial Arcade Bus Station, the new one located just outside Kaew Nawarat Road to the east of the city moat, about 3 km from the city centre. There are two bus stations in Chiang Rai, a new one outside the city, Bus Terminal 2, and the old one in the centre, Bus Terminal 1. The old downtown bus station, located in Prasopsook Road next to the night bazaar, it was the point of departure and arrival of all provincial buses, and also the headquarters of the largest private company in northern Thailand, the Greenbus. Currently the station is under reconstruction, the work will probably be completed in 2017, and majority of services have moved to the new Terminal 2. New station, Bus Terminal 2, is 7 kilometers south of the city, just off the Phahonyothin Road. All long distance buses which connect Chiang Rai to the other Thai provinces stop there. The available destinations include the cities of Bokeo, in Laos, Chiang Mai, Chiang Khong, Chiang Saen, Mae Sai, Mae Sot, Sukhothai, Lampang, Khon Kaen, Nakhon Phanom and Bangkok. During high season it is recommended to buy a bus ticket in advance.
We Sugest

---
Find the best Hotel in
Chiang Rai

at "Lowest Price"
Find cheapest airfare to Thailand
Useful Bus Terminals
---
Reach Chiang Rai & Move Around
Chiang RAI International Airport, IATA code CEI.
Drive Around Thailand and stop every Place, enjoy the freedom...