Thai Currency and Banks
Thai Currency
Issued by Bank of Thailand, the official currency of the Kingdom of Thailand is the Thai Baht, THB; pronounced as "baaht". The smallest unit of currency is the Satang, and 100 Satang is equal to one Baht. Coins come in denominations of 1, 2, 5 and 10 Baht, as well as 25 and 50 Satang. Banknotes come in denominations of 20, 50, 100, 500 and 1,000 Baht, with 1,000 currently being the largest. The effigy of King Rama IX, represent the late monarch, adorns the front of each banknote and coin while the images of the greatest monarchs of the Chakri Dynasty are printed at the back of the banknotes. The Baht is rated as one of the strongest currencies in Southeast Asia. The Bank of Thailand released images of new currency bearing the portraits of new King Vajiralongkorn. The new set will enter circulation April 6, in the 236th anniversary of the founding of the Chakri Dynasty, according to a statement released online by the central bank. The new banknotes will replace the current ones that have displayed the face of King Bhumibol for 70 years, but the former currency will still be legal tender.
---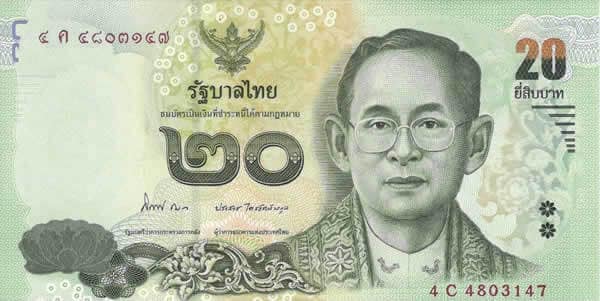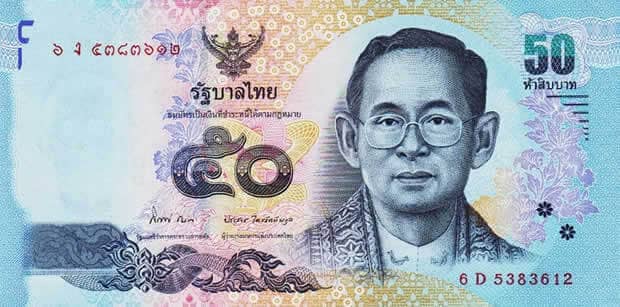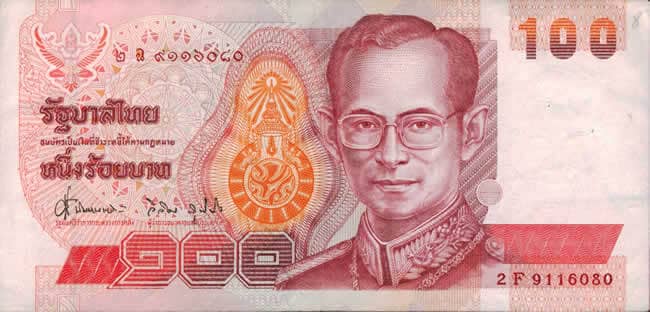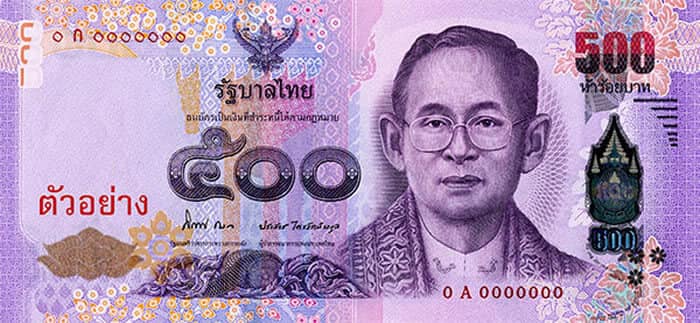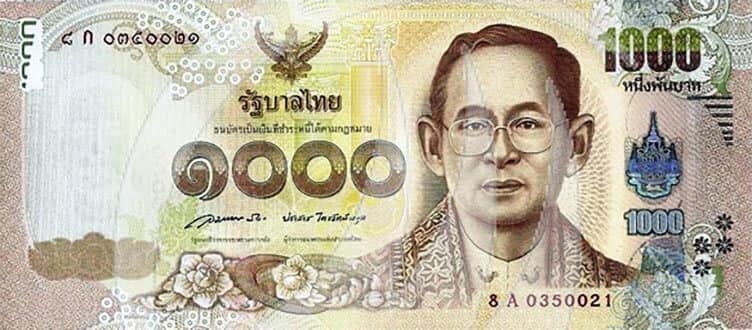 ---
Exchange
Tips: It is recommended that you do not acquire any Thai currency until you arrive in Thailand. Bring your currency with you in banknotes, not worn or torn and exchange it in Thailand as the offered rate is usually better than what you can obtain overseas. Avoid the currency exchange counters inside the Thai international airports, unless you just have to change a few bills for the first few trip expenses, as the best exchange rates in Thailand are offered by local banks or by the numerous exchange booths at every street corner. Both of these exchange options display their daily exchange rates on a bulletin board. All major currencies are accepted and there are no required fees for the exchange. Remember, once foreign currency is exchanged to Thai Baht it is an irreversible transaction, so if you take your newly exchanged currency back to your country, it will likely become an expensive souvenir. Also keep in mind that the export of Thai currency is prohibited by law as well.
Credit Card
All major credit cards such as Visa, MasterCard, Diners, American Express, Maestro / Cirrus, China Union Pay and JCB are readily accepted in most hotels, restaurants, shops, travel agencies and tour operators. However do not be surprised when you are charged up to 2 or 3% of the additional fee for each card usage. This fee is usually required at the purchase from certain shops, guest houses and small restaurants. The Thais are shrewd traders and do not intend to pay the service fee on each card usage. Automated Teller Machines (ATMs) for withdrawals are present throughout the country and most accept cards issued by major international banking networks, Visa, Plus, Maestro/Cirrus, etc. Withdrawals made with foreign credit cards or debit cards from Thai ATMs shall expect a fee of 150 to 180 THB in addition to the normal fees added by your home financial institution. For withdrawals at bank counters, you are required to present your credit card and a valid passport. Some banks may set withdrawal limits of 10,000 or 20,000 THB as well, and the exchange is often less convenient. It's advisable to communicate with your card issuer of your travel plans before your trip to prevent your card being refused or blocked after some payment transactions or cash withdrawals. Some institutions routinely block or deny unexpected charges from Thailand for fear of possible fraudulent use.
Travellers Cheques
Traveller Cheques are a great alternative to cash or credit / debit cards withdrawals when you travel abroad. Despite the emission cost when you request for the traveller cheque, no other fee shall be required when you cash it. Moreover, it offers the guarantee that no one could cash the cheques except the holder; an added security in the event of theft or loss. Traveller Cheques in all major currencies can be exchanged to local currency from all Thai banks and usually at currency exchange offices, presenting the traveller cheques and passport of holder.
Banks
The opening hour of banks is from Monday to Friday, excluding holidays, 08:30 to 15:30. The branches in shopping malls, such as Tesco Lotus, Big C, Carrefour etc., may be open from Monday to Sunday, as well as on holidays. Foreigners who choose to open a short-term savings account in Thailand, convenient for deposit and withdrawal must be in possession of a passport with Visa valid for at least 3 months, or work permit issued or endorsed by any credible organization. The savings account includes passbook, ATM card or VISA debit card which can be used to make payments in leading stores and cash withdrawal at VISA-endorsed ATM machines worldwide, without withdrawal fee in the Thai territory. It is recommended that you check with your bank if any fee is applicable for transactions such using ATMs from different banks and different provinces.

VAT Refund
A tourist, who buys goods and products in Thailand, can claim back VAT paid on every purchase, 7% in Thailand. The necessary conditions are: You have to purchase in stores displaying a sign 'Vat Refund for Tourists'. You can reclaim VAT no later than 60 days from the day of purchase. You have to spend at least 2,000 THB per day per store, including VAT and the total purchases must be equal to or exceed 5,000 THB to be eligible for VAT refund. At the time of purchase, you will have to present your passport and request your sale assistant for PP10 form to reclaim VAT. At the airport, the PP10 form attached with the relevant invoice or sales receipt must be submitted to the VAT refund counter and the purchased goods must be presented for inspection before check-in. If the amount of VAT to be refunded does not exceed 30,000 THB you can receive your refund in cash, credited to the bank account or on a credit card account for larger amounts.