Khun Chae National Park
Khun Chae National Park, in Chiang Rai Province, was declared a national park in 1995 due to its important water resources, extensive forests, rich wildlife, beautiful scenic views and several waterfalls including Namtok Khun Chae from which deriving its name. Park's Headquarters is located at Tambon Mae Chedi Mai in Wiang Pa Pao District, approximately half way between the cities of Chiang Rai and Chiang Mai. Extended on an area of 270 square kilometres, Khun Chae Park is part of Khun Tan Range and is home to the range's highest peak, Doi Lang Ka at 2,031 metres. Most of lush landscape is very steep, with many cracks caused mainly by a high volume of seasonal rainfall on a highly erodible soil. Geologically, most of exposed rock formations are in granite, an igneous rock common in Northern Thailand, which looks like to be made by large grains of white bright salt and black pepper. The white part is quartz and feldspar, while the black part is mica. Basalt is another igneous rock can be found on the eastern edge of the park. Locally known as volcanic tuff, it was expelled from a volcano as lava, but cooled relatively quickly into a grey, fine grained rock. Park's entrance fee for foreigners is 100 Baht, 50 Baht for children.
Park's Highlights
Due to the great differences in altitude, the Park has an enormous wealth of plant species. The stream bottoms are surrounded by lush evergreen trees, wild bananas, ferns, mosses and herbaceous vegetation. From 300 to 800 meters in altitude, the forest is composed of bamboo, deciduous and deciduous dipterocarp-oak associations, while pine, mixed evergreen and rain forests growing from 1,000 to 1,500 metres. The ridges and mountain tops are typically covered with grasses, pine, oaks and dipterocarps. Wildlife can be seen in several different habitats, like the lush river valleys and moist forests near the park's higher parts. Mammals at Khun Chae include Asiatic Black Bear, Siamese Hare, Barking Deer, Hog Badger, Slow Loris, White Handed Gibbon, Leopard Cat and Serow. Reptiles include King Cobra, Green Tree Viper, Gecko, Flying and Smooth-bodied Lizard. More than 200 species of birds can be seen here, including Ashy Drongo, Scarlet Minivet, Gray Headed Flycatcher, White Fronted Forktail, Brown Fish Owl, Crested Serpent Eagle, Shikra, Velvet Fronted-Nuthatch, Blue Throated Barbet, CopperSmith Barbet, Blue Winged Leafbird, Brown Cheeked Fulveta and Red Bungle Fowl. The park offers numerous beautiful hiking trails through the lush vegetation reaching summits, scenic views point, waterfalls and streams. Some trails are suitable for beginners; others are more suitable and recommended for expert hikers.
Doi Lang Ka, also known as Doi Mae Tho or Doi Langka Luang, is the highest peak of the Park at 2,031 metres, and Thailand's eighth highest peak. The mountain and its many sister peaks are located on the extreme southern boundary of the park, adjacent to Jae Son and Mae Dahkry national parks. The trail to the top of Doi Lahnga enables visitors to see many spectacular views of Khun Chae National Park and the surrounding area.
Doi Mot with its 1,696 meters is one of park's highest peaks. Located northwest of park's headquarters, is home to a spectacular rainforest vegetations blanketing all the hiking trail reaching the top. From the top of Doi Mot, which is on the border with the province of Chiang Mai, visitors can admire a stunning 360 degree view over the surrounding landscape, and even Chiang Mai city to the west and Chiang Rai city to the east.
Namtok Mae Tho is a seven-level waterfall with the highest level about 40 meters high. It has water all year round, however, the best time to visit the waterfall is during the rainy season. It is accessible by car from the Park Headquarters, about 30 or 40 minutes of path. Then the trail head, all seven levels of the fall can be reached in approximately two hours hiking.
Namtok Khun Chae is a beautiful six-level waterfall located in the center of park. It is accessible by a two hours drive from the park's headquarters until the trail head and then with an hour hiking. Camping, picnic area and gears are available near the waterfall.
The Giant Ficus Tree is one of the most amazing features of Khun Chae National Park. The enormous, structurally unique ficus tree is located near the Park Headquarters. The tree continues to grow and has a large number of branches covering an area of more than 1,600 square metres.Read More
Headquarters and Campsites
Khun Chae's Headquarters and access to the park are adjacent to Highway 118, the main road connecting Chiang Mai and Chiang Rai, about 125 km southwest of Chiang Rai and 56 km northeast of Chiang Mai. HQ has basic facilities including a campsite, a few bungalow-style accommodations and a Ranger Station for any kind of information and guide service, recommended for those wishing to do the most difficult hiking trails. Visitors wishing to camp inside the park must to bring their own camping equipments including the sleeping bags, as night temperatures get very cold, during certain seasons as low as 6° C.
---
Info
Address Headquarters: Mae Chedi Mai, Wiang Pa Pao, Chiang Rai
Telephone: +66 5316 3364, +66 5360 9262
Admission fee: 100 THB for Adults and 50 THB for Child
Website: www.dnp.go.th
Getting There & Weather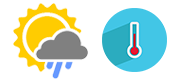 The climate of Thailand is tropical in nature, driven by monsoon and divided into microclimates due to the geographical shape of the country that allows it to lie within many meridians. The Northern Thailand has three distinct climatic seasons as follows. The Cold Season: A relatively cool dry period that runs from November to February when the monsoon blows northwest. During this period most of the northern mountains in Chiang Rai areas have temperatures that can approach to Zero Celsius in the night. The average temperature in this period range between 19° C and 25° C in the day and between 10° C and 16° C at night. Temperatures can drop to 6° C during the nights of February. The Hot Season: A warm period that starts in March until mid-May also characterized by occasional rain. The northern mountains areas have intense heat and high humidity during all this time with average temperatures ranging from 29° C to 33° C. At times there can be temperature peaks even higher than 38° C. The temperature usually hits its highest point in mid-April. The Rainy Season: This period starts from May until October influenced by the southwest monsoon during which rainfall is more frequent and intense. However, as can be said for the term "cold season", the term "rainy season" can be slightly misleading. While the rain during this season can be intense with furious storms and showers, they usually do not last more than a day. Sunny are also not uncommon during this time a well. The average temperature during this time is between 22° C and 30° C with the humidity usually well over 70%.

The access to the National Park is located adjacent to Highway 118, the main road connecting Chiang Mai and Chiang Rai, approximately 125 km southwest of Chiang Rai and 56 km northeast of Chiang Mai. To get there, you can drive yourself a hired car, use the ordinary and air conditioned buses running frequently between the two provincial capitals, or hire a taxi or a local songthaew for as long as you need it. Consider that a songthaew, two-bench partially open-air taxi, will cost about 2,000 THB for the whole day including gasoline usually, so ask first to avoid surprises. In Chiang Mai and Chiang Rai you can rent a car at prices ranging from 1,000 to 2,000 THB a day, depending on the model and rental company. At airports in both cities you will find the offices of major car rental companies, such as Avis, Budget and Hertz, which offer excellent car covered with full insurance. In the cities are also local hire agencies, spread a little everywhere in the centre, which in turn offer cars of good quality at similar prices, but, sometimes they do not have insurance that covers the full damage.

Mae Fah Luang International Airport is the airport of Chiang Rai. It is located about 10 km north from the city centre. The main companies operate several daily flights to Bangkok and nearby Chiang Mai. The road linking the airport to Chaing Rai is Phaholyothin Road, the name given to the stretch of Asian Highway AH2 that goes through the city and continues to the border with Myanmar. You can reach the city by private taxis available at the terminal at a cost of 200 THB, or collective taxis songthaews passing on the highway. Inside the airport there are also international car rental companies.

Buses and minibuses offer different choices to get to Chiang Mai and Chiang Rai from Bangkok, or from other Thai cities of tourist interest. All buses to Northern Thailand from capital leave from the Bangkok Northern Bus Terminal better known as Mo Chit, which is the biggest bus station in Bangkok. Chiang Mai has two bus stations, consisting of three different terminals, one, the oldest, in city centre and the Chiang Mai Provincial Arcade Bus Station, the new one located just outside Kaew Nawarat Road to the east of the city moat, about 3 km from the city centre. Arcade is a huge bus station and has two terminals, Terminal 2 and 3 adjacent each other, separated only by a tuk-tuk stand and a road. All buses, and minivans, from and to destinations outside Chiang Mai province use the Arcade station. The available destinations include not only all the other provinces or cities in northern Thailand, such as Chiang Rai, Mae Hong Son, Mae Sariang, Nan, Lampang, but also the provincial capitals of central and eastern regions, such as Sukhothai, Nakhon Ratchasima, Khon Kaen, Ubon, Bangkok as well some seaside resorts, like Hua Hin, Koh Chang and Koh Samet. There are two bus stations in Chiang Rai, a new one outside the city, Bus Terminal 2, and the old one in the centre, Bus Terminal 1. The old downtown bus station, located in Prasopsook Road next to the night bazaar, it was the point of departure and arrival of all provincial buses, and also the headquarters of the largest private company in northern Thailand, the Greenbus. Currently the station is under reconstruction, the work will probably be completed in 2017, and majority of services have moved to the new Terminal 2. New station, Bus Terminal 2, is 7 kilometers south of the city, just off the Phahonyothin Road. All long distance buses which connect Chiang Rai to the other Thai provinces stop there. The available destinations include the cities of Bokeo, in Laos, Chiang Mai, Chiang Khong, Chiang Saen, Mae Sai, Mae Sot, Sukhothai, Lampang, Khon Kaen, Nakhon Phanom and Bangkok. During high season it is recommended to buy a bus ticket in advance.
We Sugest

---
Find the best Hotel in
Chiang Rai

at "Lowest Price"
Find cheapest airfare to Thailand
---
Useful Bus Terminals
Reach Chiang Rai & Move Around